I've been using Photoshop for many years – primarily as a photographer that works in Lightroom and sometimes exports images into Photoshop for editing. But using Photoshop with a mouse is something that takes a lot of practice; it's not really a natural way to post-process, which is why many serious editors turn to graphics tablets.

Now, when the team from XP-Pen reached out and offered us a review unit of the XP-Pen Artist 24 Pro, a 2K, 23.8-inch QHD graphics tablet, I'll admit I was a little dubious. I'd only ever owned one graphics tablet – a tiny little Wacom that didn't get a lot of use. I was certainly keen to try a new tablet, but I'll admit that I was a little worried about not liking it.

Fortunately, as you'll soon see, I needn't have worried. As I share in this review, the XP-Pen Artist 24 Pro is a powerful graphics tablet, one that both looks and works great.

So to discover all the nitty-gritty details, including both the benefits and the drawbacks of working with the Artist 24 Pro, read on.
First impressions
The package that arrived was much larger than I expected. I knew the Artist 24 Pro featured a 24-inch display, but I had clearly not managed to comprehend just how large the tablet would be.

I have a desk with two 27-inch displays, which meant that the XP-Pen Artist 24 Pro would need an extra bit of real estate. So after I MacGuyvered something together with a Kupo light stand and my Tether Tools Aero, it was time to get the new tablet set up!
I tried using the tablet in two different configurations:

First, on a stand with my Macbook sitting behind it. This is a great setup for shooting tethered, as you can perform quick edits there and then with the tablet while using it as your main display.

The second configuration, as shown in the photograph above, was with the tablet adjusted to the height of my standing desk, ready to go!
Design
The XP-Pen Artist 24 Pro offers one HDMI and two USB host ports (so you can charge things like phones, etc.), as well as the power input on the back of the unit.

There's also a USB-C port, which allows me to connect my iMac to the display. This was very quick and convenient; it worked straight out of the box with very little configuration required.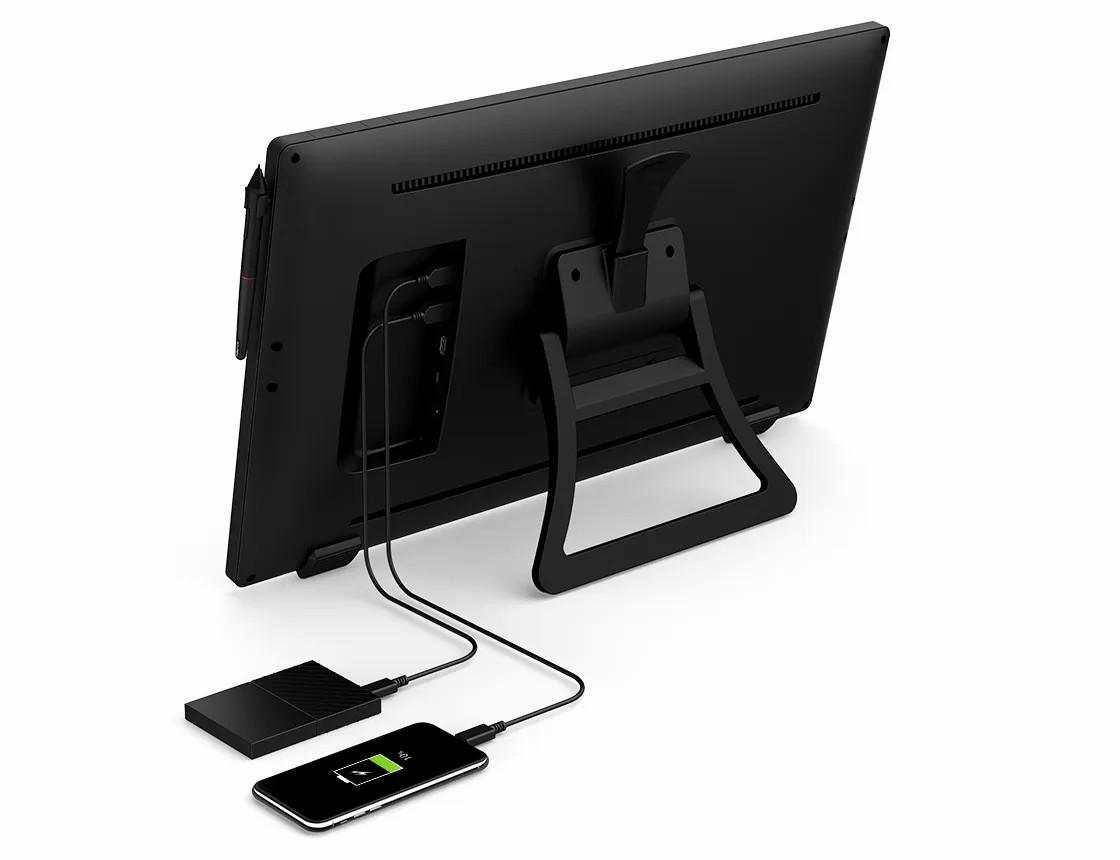 The rear of the tablet sports a flappy-paddle stand that, when depressed, moves a foot into the desired position. This lets you adjust the unit to stand up or lay almost flat, as though you're writing in a nice big notepad.
I love how I can stand up the tablet to use as a regular second monitor for my 13-inch Macbook Pro, before laying it flat and working on photographs.
Ease of use
The XP-Pen Artist 24 Pro comes with a piece of software (a download) that adjusts the settings of the tablet, pen controls and functions, monitor configuration, express key setup (more on that in a bit), calibration, and other general features. I've found it very easy to use with no what-the-heck-am-I-doing moments to speak of!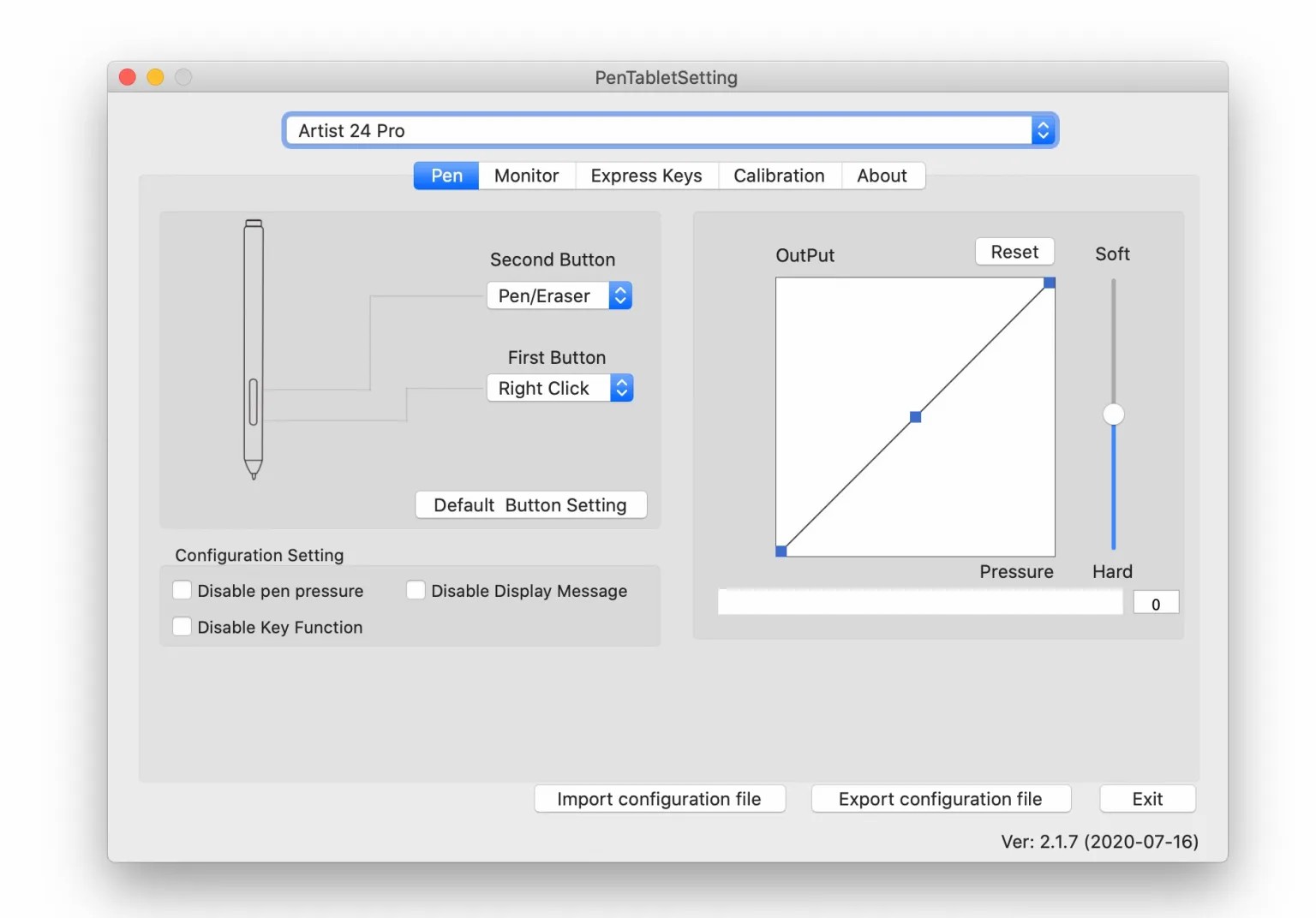 However, when you first set up your tablet and open Photoshop, make sure you have the correct monitor mapped. Otherwise, you'll find yourself deeply frustrated; I speak from personal experience.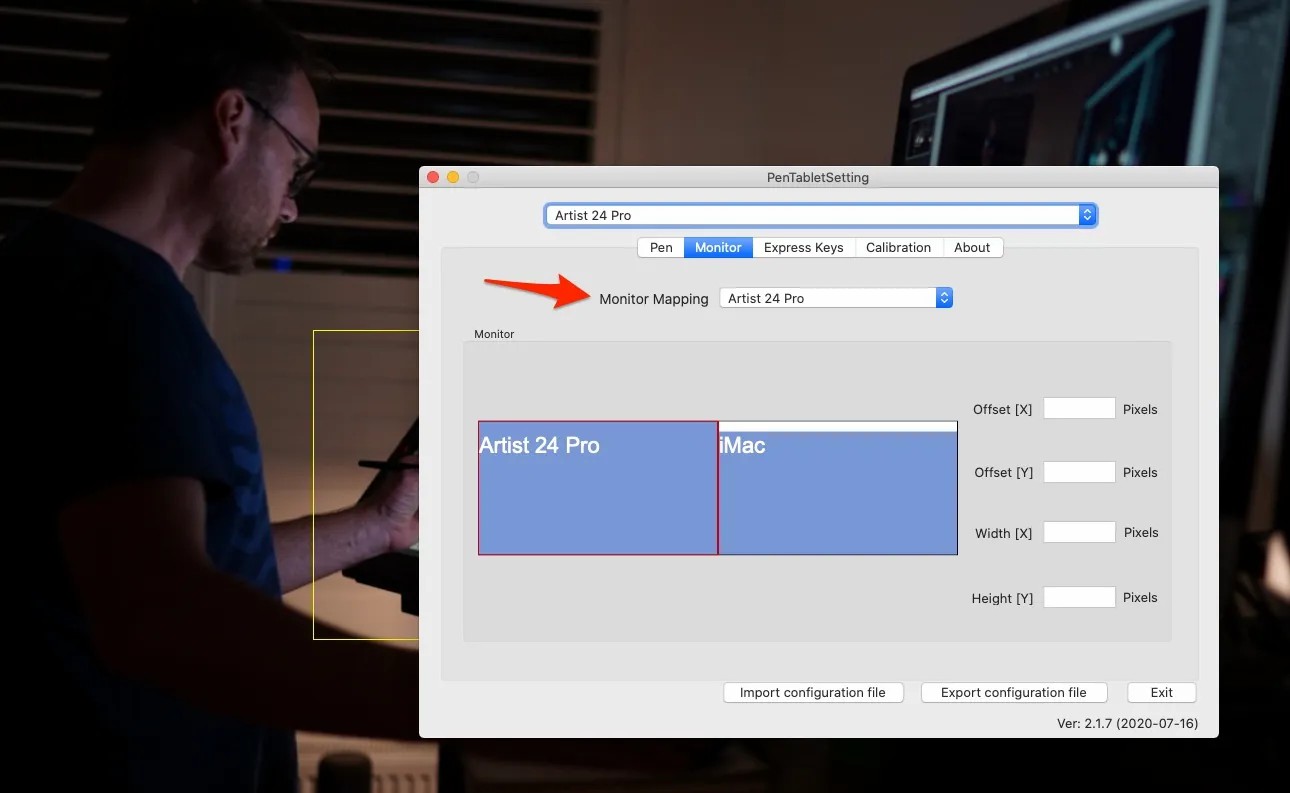 Performance
There are many technical reviews of the XP-Pen Artist 24 Pro on the web, and most of them will tell you, in superbly technical terms, that the tablet is a very capable tool.
In fact, my conclusion is similar – the large screen, the 2560×1440 resolution, the 90% AdobeRGB color gamut, and the tilting stand makes for a very usable tablet.
When you get the XP-Pen Artist 24 Pro custom buttons all configured using the two easy-to-control red dial wheels and the 20 customizable shortcut keys, it's very easy to open and control many different graphics packages, as well as a lot of other options (depending on which software you like to use on your computer).
In truth, I hadn't previously used a tablet much. I thought that I'd always just edit with my mouse. I guess that comes from having a less-than-pleasant time with the first tablet I tried (and I hadn't used another tablet until the Artist 24 Pro).
I've now had the XP-Pen Artist 24 Pro for quite a while. And when working in Photoshop, while I would have once happily used my mouse, I now whip out the tablet and do my editing on the screen – a testament to the great performance and ease of use of the tablet.
Granted, the 24-inch tablet isn't the smallest device, and you do need to have space for it. But the tablet only requires one USB-C (or HDMI) and one power cable, so you can have your laptop tucked behind the tablet, using the tablet as your main display with a wireless keyboard and mouse to give your laptop that "big screen" feeling.
I've used the tablet as the main display for my 13-inch MacBook Pro for almost everything from movies to editing since I received it.
The XP-Pen Artist 24 Pro review: Conclusion
The XP-Pen Artist 24 Pro offers solid build quality combined with a simple-to-navigate interface, great on-screen performance, visual clarity, and ergonomics.
There was only one thing I thought could be improved, and that was the rear foot of the big screen. It has a couple of rubber stoppers that hold the device nicely in place, but it's easy to scratch your desk if you're not careful.
Overall, I like almost everything about the Artist 24 Pro; it's packed full of features that make it one great tablet!
You can purchase the XP-Pen Artist 24 Pro
Source:https://digital-photography-school.com/xp-pen-artist-24-pro-photography-tablet-review/