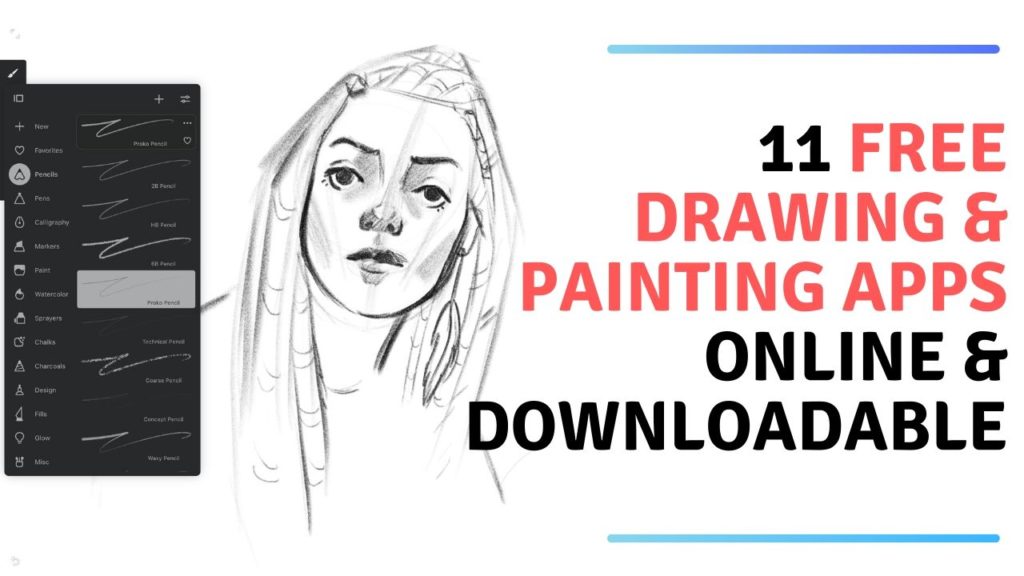 How cool is it that we've found 11 Free Drawing Software? Now you can paint and draw online for free with one of these best paint apps!


In this age of wildly developing technology, digital art and tools for creating it have become a huge part of our lives. However, the most basic thing that we need to execute digital art is the software. Artists can move mountains with the help of the right software!

But the first thing that can come to mind when you think about drawing software is – how expensive that will be?

Fortunately, there actually are quite a lot of free apps with a wide selection of features, from the simplest ones to the professional ones. We have prepared a guide dedicated to the best and most popular drawing apps to help you choose the one that you like the most.
Note:


They are not ranked in any particular order! Each person will find their fav

My fav are the downloadable ones!

The app I use for creating art is Procreate App and it's not on this list as it's not free, but a very affordable option for those who are ready to step it up.

And here are 12 Cheap Drawing Tablets if you are looking for one
5 Free Browser-Based Drawing Apps
Sketchpad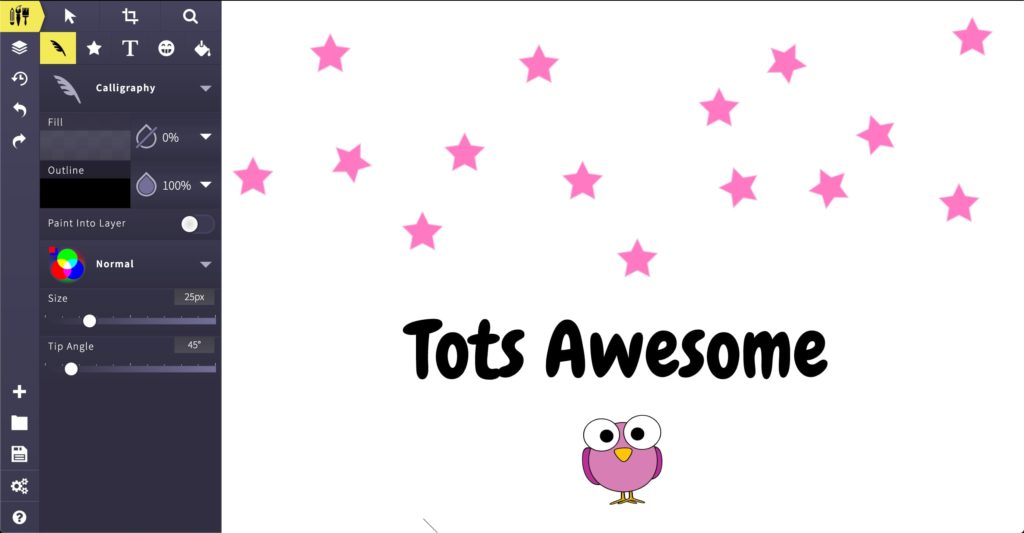 Sketchpadis a browser-based drawing app and image editor. It's absolutely free if you're using it online, but you can also purchase an offline desktop version of it for just a few dollars. Sketchpad has got an impressive lot of features, including layers, history, and gradients, and it allows you to do almost everything.

It's quite simple to use, and saving your artwork is also a very easy task – you can do it in just a couple of clicks. The app will save your work in PNG. Sketchpad is also compatible with Google Classroom and can be used as a cool addition to the learning process.

The Sketchpad website offers you a full guide on how to use each one of its features. There is also a backup option for your drawings so that you won't lose them in case of emergency. Probably the only issue that can be named is that Sketchpad doesn't support pen pressure sensitivity at the moment, but the developers are working on it.
SumoPaint
To unlock the full potential of SumoPaint, you'll have to create an account. But this would be absolutely worth it. It's a fully-featured cloud-based painting and image editing app, almost like a browser version of Adobe Photoshop with its many various features.

Among all of the tools, basic and more advanced, you'll find layers, blending modes, blur, various image adjustments, and filters. You can edit the images' contrast, brightness, color balance, saturation, and more. The images can be saved as PNG or JPG files, or as a special format file that you can later open in SumoPaint and continue working on it.

SumoPaint also has a huge community of artists who share their artwork. A curious thing is that you can allow "remixing" your drawing if you post it there, which means that others will be able to do their versions of your work. The app can be embedded into your own website.
DeviantArt Muro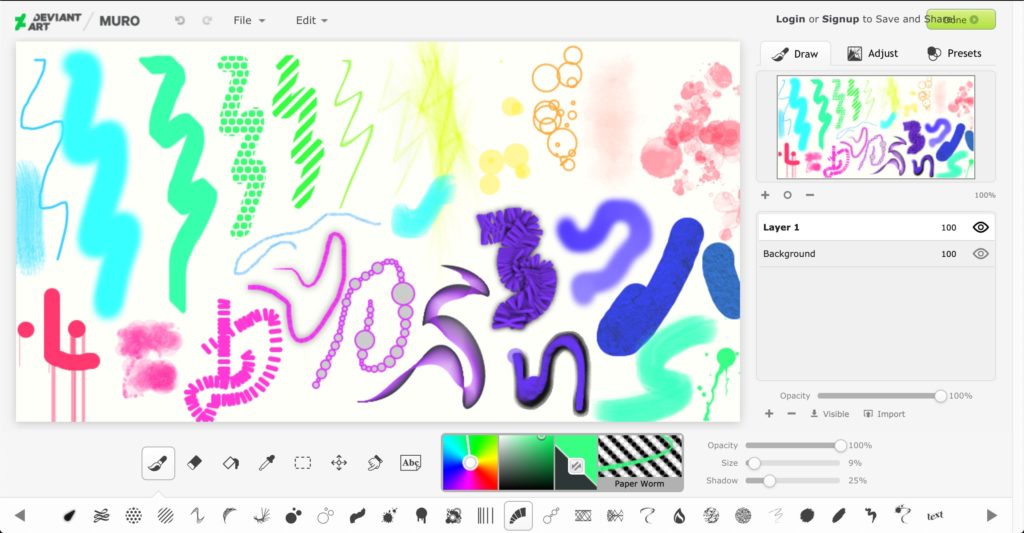 You will need a DeviantArt account to use DevianArt Muro. But it's easy to create, and you can post your completed drawings or speedpaints right then and there, receiving feedback. And if you already have an account, it would be a crime not to try out this app.

You will also require a Sta.sh account for your drawings to be automatically saved there. It's a little bit more work, but your data will be safe. If that annoys you too much, then DeviantArt Muro might not be the best option for you.

The app itself can be used both for hobbyist doodles and for professional drawings. It offers you layers, filters, brightness and contrast adjusting, as well as a selection of customizable brushes. Another cool feature is that you can save your image not only as PNG (or to your Sta.sh account) but as layers too.
AWW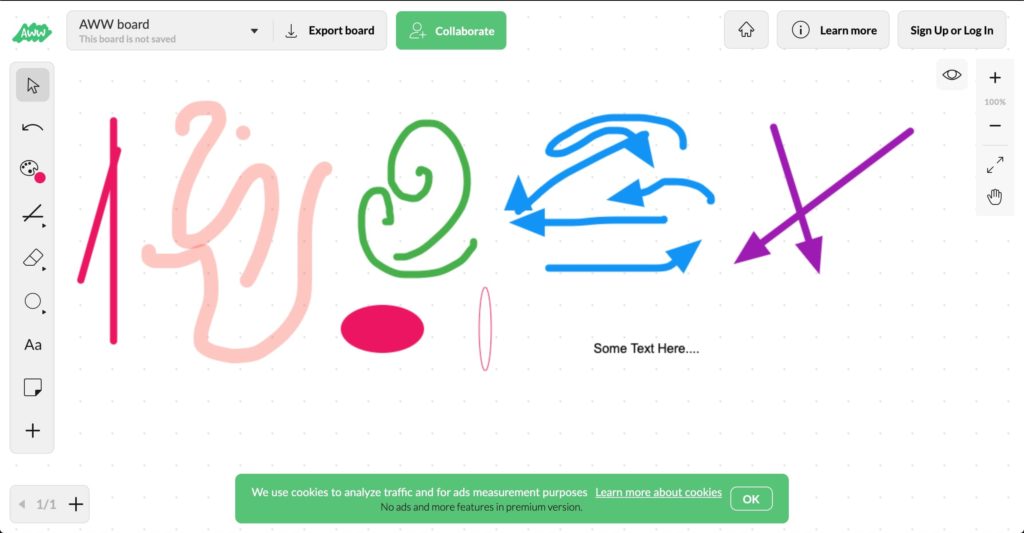 A Web Whiteboard, AWW for short, is exactly what it sounds like. It's more of an online whiteboard rather than an app that's made specifically for drawing. Yet, it's useful for collaborations with several people that can use completely different devices, and it can be used for brainstorming, presentations, or just for fun.

It has a very minimalistic interface that is really easy to use, so no one would have any questions or difficulties along the way. But as cool as it is, it also limits the possibilities and functions that this app offers. It only features a few colors, a couple of pencil sizes, text tool, and eraser tool.

To invite other people to collaborate via AWW, you only need to send them a link to your drawing board. The drawings that you made alone or with them can be saved in PNG and easily shared. This app can also be embedded on your own website.

Flock Draw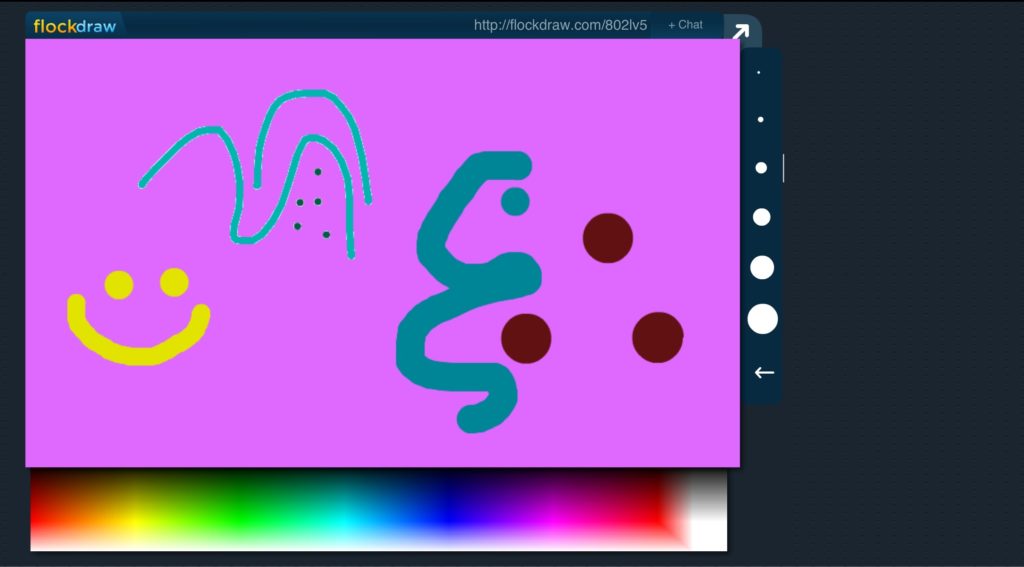 Flock Draw is an app that's more complicated than AWW. It's collaborative as well but made specifically for drawing. The selection of features is still quite limited, but not as poor as it was in the previous example. You can use it for drawing with other people in real-time or creating your art on your own.

The features include shapes, text tool, lines, a brush tool with customizable size, and a provided color palette. Pretty much like the older versions of good old MS Paint, but with the option to invite your friends to draw with you. The drawings can be saved to the gallery or shared via your social media or URL.

Flock Draw also has an iOS app that you can download to keep having fun with your friends on your other devices. Or just to "dance with yourself" and your drawing process not in the browser version.

6 Free Downloadable Drawing Apps
Adobe Illustrator Draw (compatible with iOS, Android)
Adobe Illustrator Draw works with vector graphics, therefore it's ideal for illustrators and designers. Vector art looks clean and perfectly seamless no matter what, but it requires more time to get used to creating it quickly.

This app has an intuitive interface that is easy to understand and use, it'll take very little of your time to learn where to find the necessary features. The gesture mechanics are ideal for a mobile (or tablet) app and make your working process so much easier. You can draw on top of an uploaded picture, alter the brushes' features, track your recently used colors with "color history", and do many other things in the app.

As it's usually done with every Adobe product, Adobe Illustrator Draw provides you with tech support and regular updates. A share feature will allow you to share your creation within the Adobe Illustrator Draw users' community and receive feedback.

You can download it here.
Autodesk Sketchbook (compatible with Windows, Mac, iOS, Android)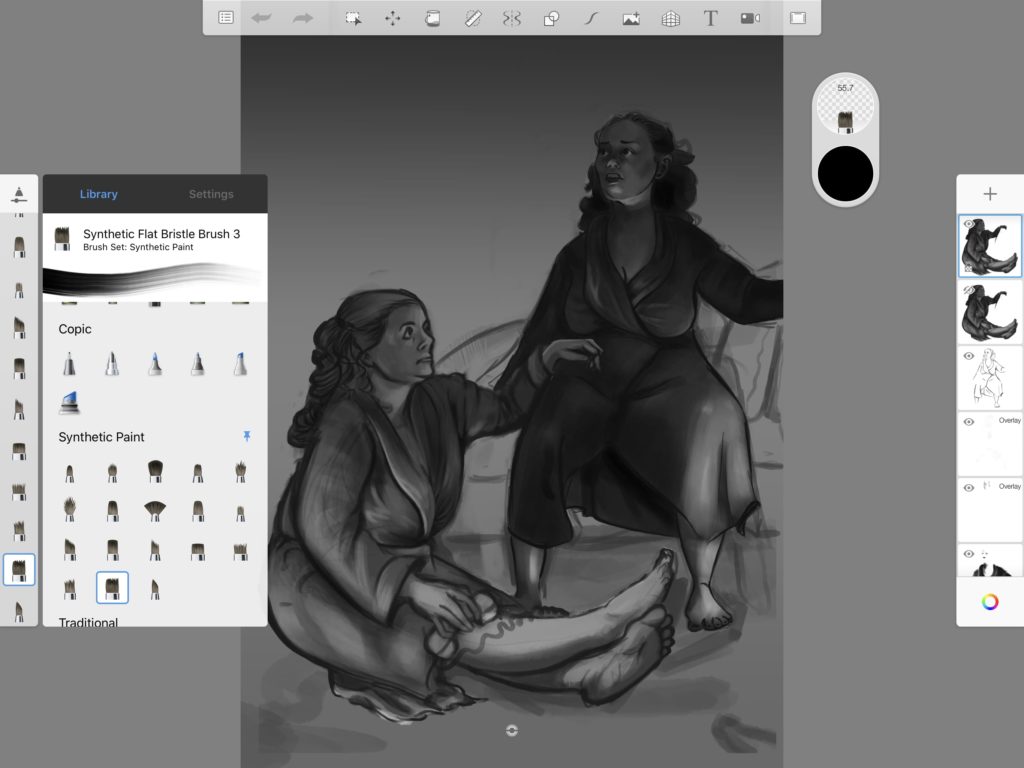 Autodesk Sketchbook is completely free for individual usage, however, if you need a corporate license, it'll require payment. It's the app for (obviously) sketches, but you can also do complete drawings in it without any problems. Therefore, it can be useful for all kinds of artists, as well as for designers.

Autodesk Sketchbook responds amazingly well to stylus strokes and has an intuitive, easy-to-understand user interface with icons that clearly represent the functions that they're responsible for. The buttons don't distract you from working and don't take up a lot of your working space. The app supports layers that can even be exported in PSD format (among many other formats that you can export in).

This app doesn't cover every possible graphics editing function, concentrating specifically on drawing instead, but that's what makes it versatile for drawing. You can create small detailed illustrations, zooming smoothly and easily, or large landscape digital paintings made with big blurry brushes. Or anything in between.

You can download it here.
Infinite Painter (compatible with iOS, Android)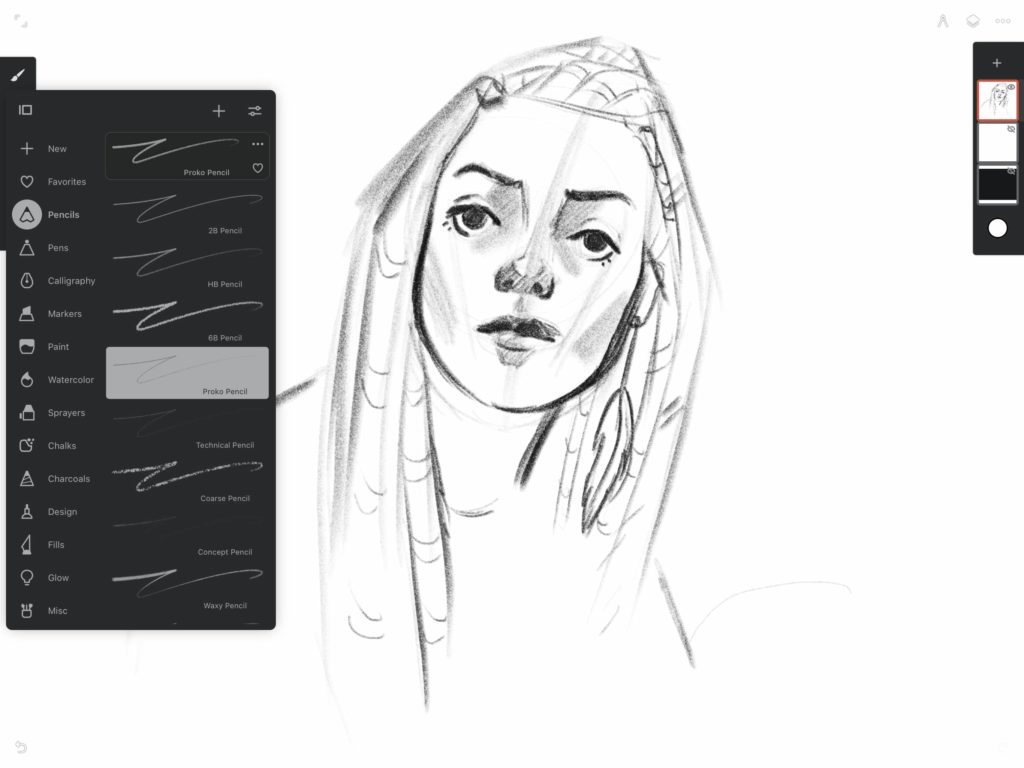 Infinite Painter isn't an entirely free app, but it has enough features even without the paid ones. You can do anything from sketches and doodles to large full-on paintings with backgrounds.

The features of Infinite Painter are almost the same as in any art software, and despite them all, the app successfully manages not to make your user experience a complete mess. You can change the brush size or opacity with a finger swipe, which is extremely convenient and time-saving, helping you make your creative process more optimized.

The negative side of this app is its bugs, which can be annoying and interfere with the working process. But if your device has enough RAM, you can test out this app's awesome features. It's a really cool mobile drawing app.

You can download it here.
Krita (compatible with Windows, Mac, Linux)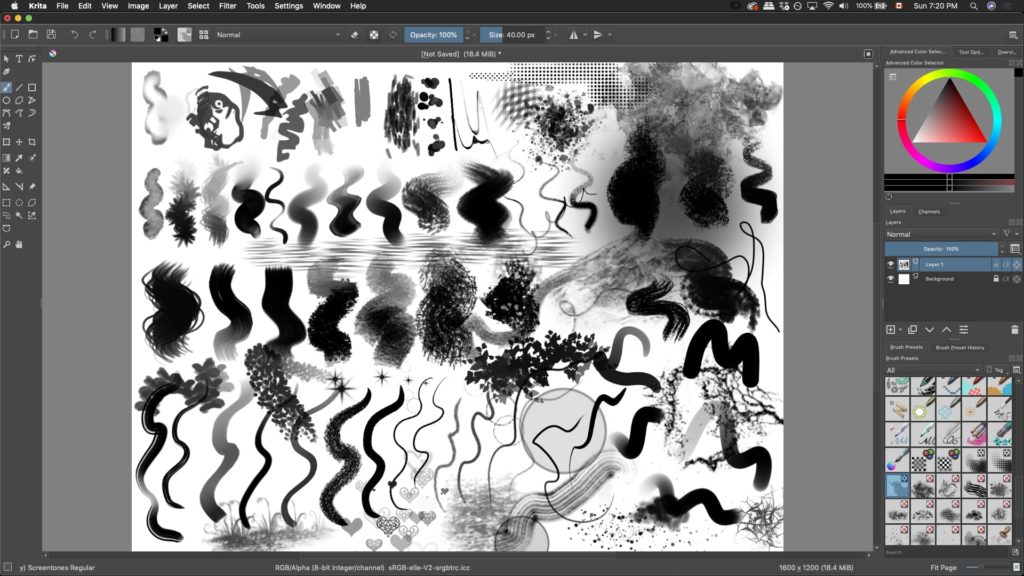 Krita is a professional and open-source drawing program that is completely free. It was made by artists and for artists, and it's perfectly suitable for everyday professional use. It's best to use Krita for illustrations, matte and texture painting, concept art, animation, comics, and VFX industry.

Another amazing thing about Krita is that it has a large online community of artists who use the program and share their work. It also offers lots of free tutorials and educational materials on how to get the maximum out of Krita's features and how to grow as an artist. The materials are offered in several different languages.

Its design is mostly meant for graphic tablet users; however, you can use it any other way you prefer. You may have to spend some time getting used to the button combinations. But in the end, it will make your drawing process optimized and effective.

You can download it here.
MediBang Paint (compatible with Windows, Mac, iOS, iPad, Android)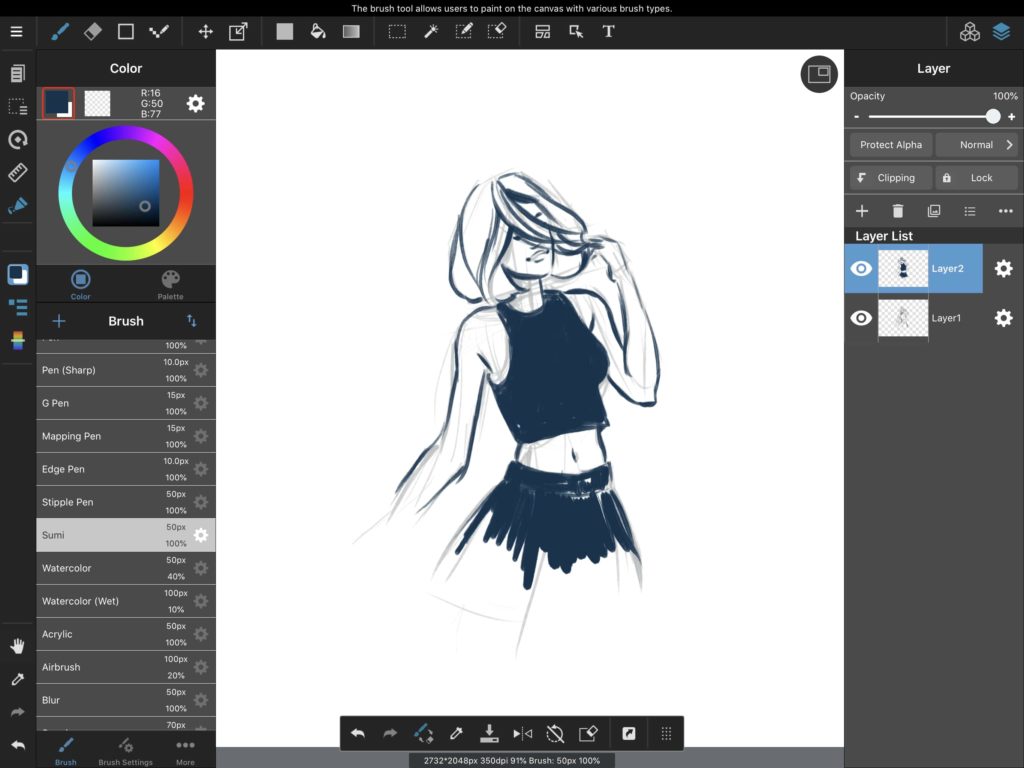 As you can see, MediBang Paint is available on almost every kind of device. It rightfully takes its place among the best drawing apps that exist out there. It's good to use for design, painting, sketching, but it's the best to use for manga and comic art (which it was essentially created for).

MediBang Paint's interface is very minimalistic, straightforward, and easy to understand. Its layout allows the vast majority of space to be given to the canvas itself, which can be crucial on small devices. Along with lots of tools and effects for professional drawing, the app features a wide selection of brushes and various materials, as well as pre-installed fonts for your manga or comics.

To access all of MediBang Paint's features, you'll have to create an account, but don't let these few clicks stop you from having that mighty tool for creating art. It also features cloud sharing for collaborating with other artists.

You can download it here.
GIMP (compatible with Linux, Mac, Windows)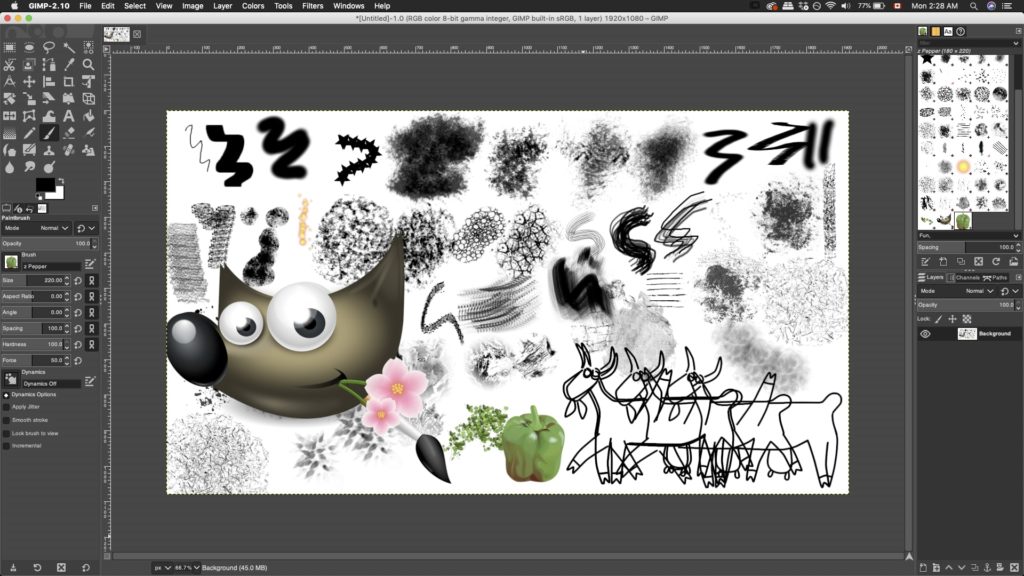 Gnu Image Manipulation Program, mostly known as GIMP, is an open-source image editor and drawing app. You can edit its source code and distribute your changes, as well as enhance your own productivity with the customization options and third-party plugins that are easily installed. Due to this fact, the interface can be a little cluttered, but if that doesn't scare you, you should definitely try this app out.

Its set of features can be compared to the famous Adobe Photoshop, both in drawing and image manipulating. The tools vary from basic to more advanced, among which are layers, customizable brushes of all sorts, filters, and automatic tools for image enhancement. GIMP can be used equally gladly by photographers, designers, and artists of all kinds.

GIMP has a very passionate community, therefore you can find all sorts of plugins and tutorials online. All bugs are fixed very quickly, and the app is constantly developing, adding more useful features and more fun to your user experience.

You can download it here.

As you can see, free apps aren't any worse than the paid ones. In fact, some of them can be even better because of their communities, developers, and affordability.

It's always good to try out several apps before you find what works best for you. And if the apps are free, it's even easier to do. We can only describe several features of the apps, but it's always up to you what to choose.

So, don't let anything limit your creativity and imagination!

Find your perfect app and may the Force be with you.
source: YOUR ART PATH